Pit Boss Grills needed an improved app design to incorporate their new SmokeIT technology while improving the overall user experience.
The app also needed to improve the existing recipe, shopping, and blog features while leveling up the UX and visual aesthetics.
Product Designer
Product Strategy, User Research, Interaction, Visual Design, Prototyping & Testing, Information Architecture

The Pit Boss app is a valuable tool for Pit Boss grill owners who want to take their outdoor cooking to the next level. Its range of features and benefits can help users get the most out of their grill and achieve great results every time they cook.
I was the sole designer on the product team alongside two business analysts and three developers. I was responsible for the product design and UX/UI for the app.
Some key achievements are listed below:
Applied design sprints to inform our process. I was able to effectively apply the design sprints process to identify the problem, ideate on the solution, prototype and implement the final product.
Executed end to end. I developed and implemented a complete and integrated solution that took into account all aspects of the product's life cycle, from conception to delivery and beyond. It required a deep understanding of user needs, technical requirements, and business goals to create a successful product that met the needs of customers and achieves business objectives.
Implemented a design process. This helped our team establish more structure for how we conduct our work and allowed other members to gain visibility across our upcoming sprints.
I used an iterative design process that involved continuously testing and refining the product to ensure that it met the needs of the user. This was done through a user-centric approach to design that prioritized the user's needs and goals.
Understanding the Problem
The existing Pit Boss app included many bugs, faced poor performance, and lacked the features and functionality that users expected. The app's user interface was challenging to navigate and not user-friendly, leading to frustration.
I conducted research interviews with several existing users to uncover their pain points and gather insights and feedback, which allowed me to understand the users' needs, preferences, and pain points.
After synthesizing the data, several themes stood out. I prioritized these based on the impact and feasibility of each item. These are the elements that ended up being part of the improvements for this version:
Discoverability
There was a high interest in features that were not easily discoverable
Content
In addition to being able to connect the app to their grill, users wanted the ability to shop for accessories, find recipes, and read related blog articles within the app
Using the App
Many users expressed frustration with the existing app often crashing while trying to use simple features
Other UX Adjustments
Users had negative feedback regarding some UI elements
The user interface had to be super easy and accessible for users with different levels of tech literacy and all types of mobile devices. The application layout is structured around intuitive navigation, high readability, and eye-catching visuals. Straightforward and solid typography based on san-serif fonts makes the information scannable and legible on screens of different sizes. Color contrast is used for amplifying quick navigation: bright color accents attract users' attention to interactive zones and active states of the layout elements.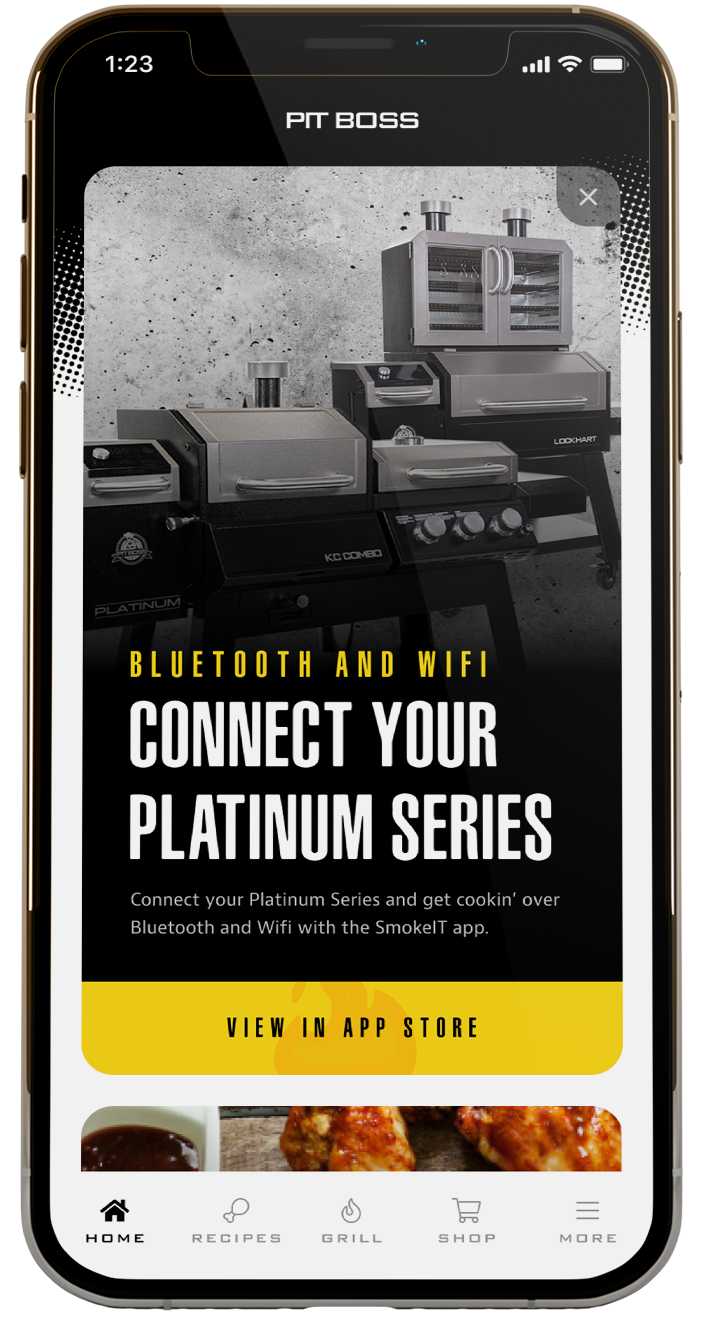 The new recipe section allows users to search, save, filter, and view useful stats at a glance. This was a major improvement over the existing app, which didn't showcase any of these features.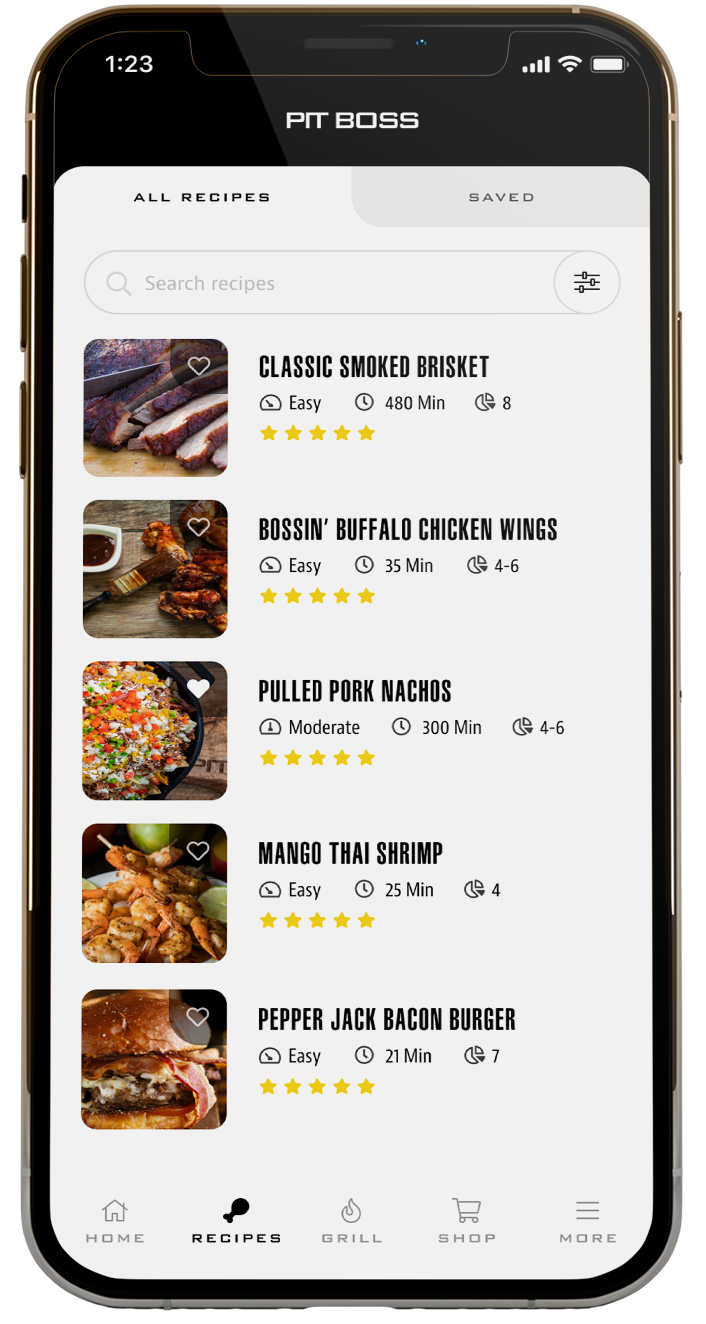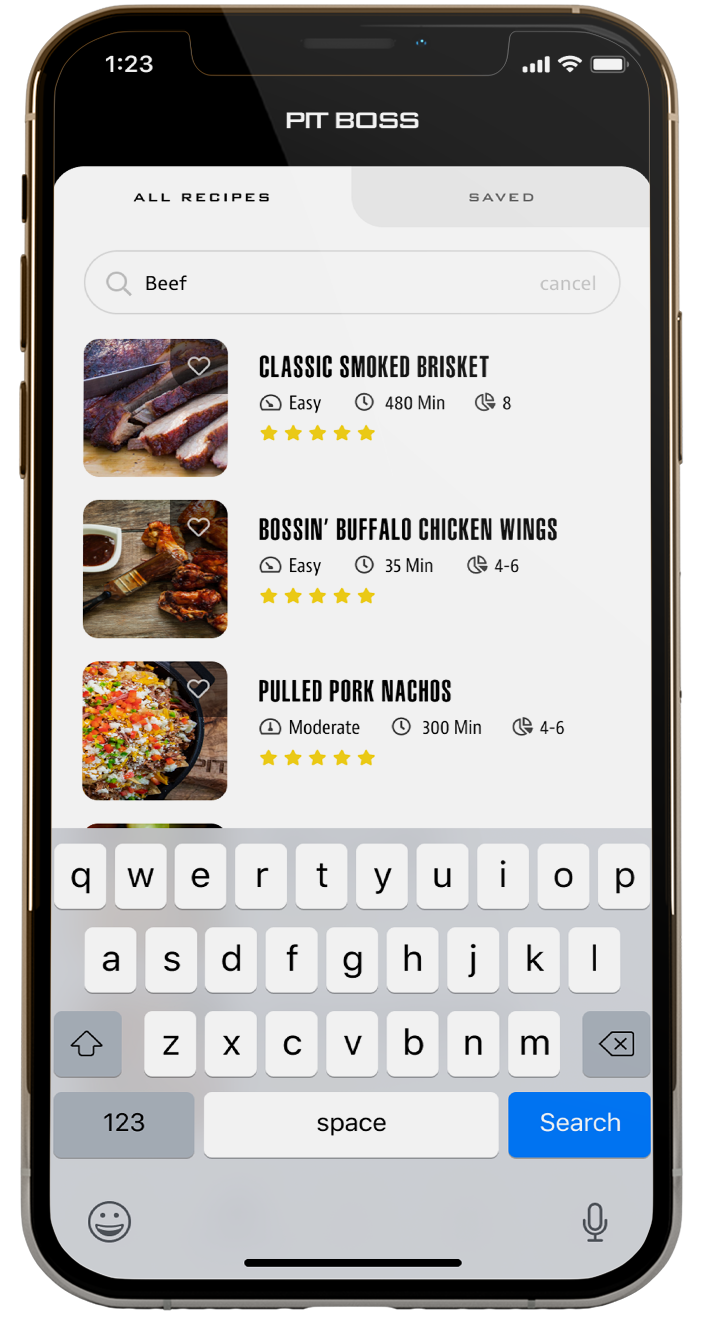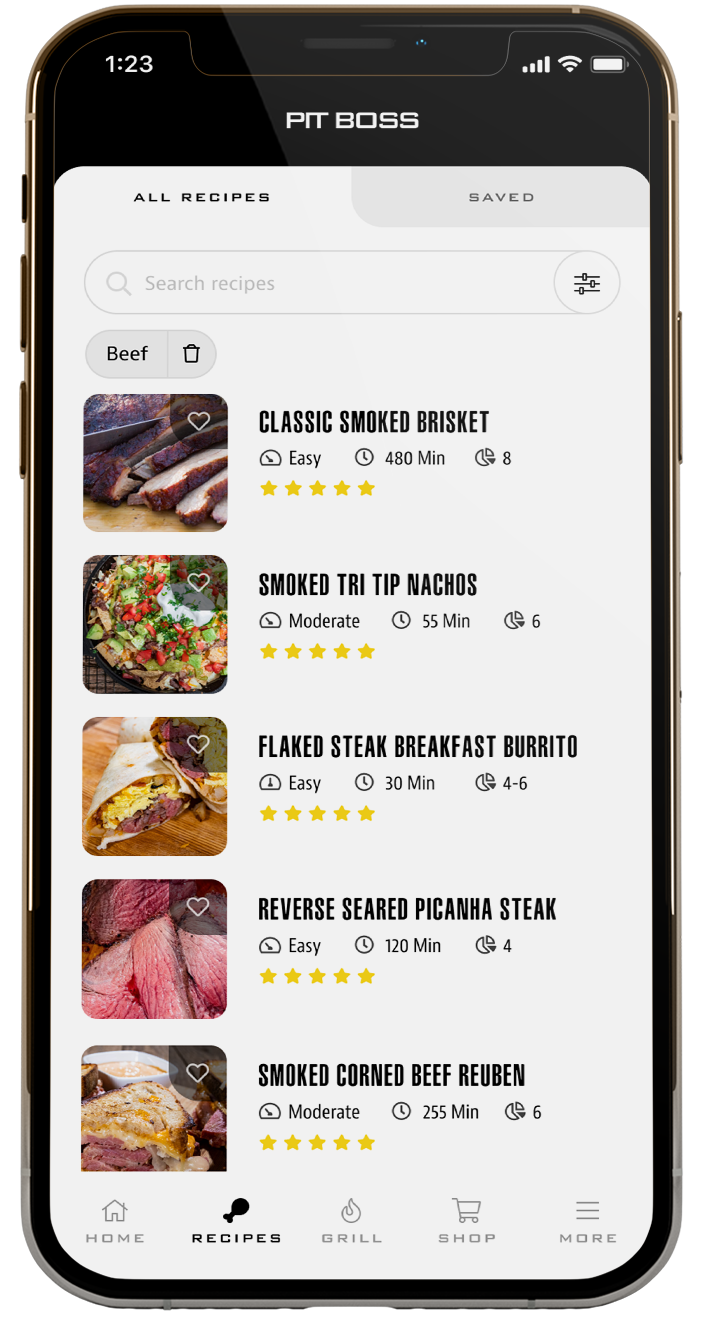 Additionally, each recipe features an overview section with dietary considerations and special tools suggested for the best grilling experience, an easy-to-follow ingredients tab, and an instructions tab focusing on step-by-step micro-interactions.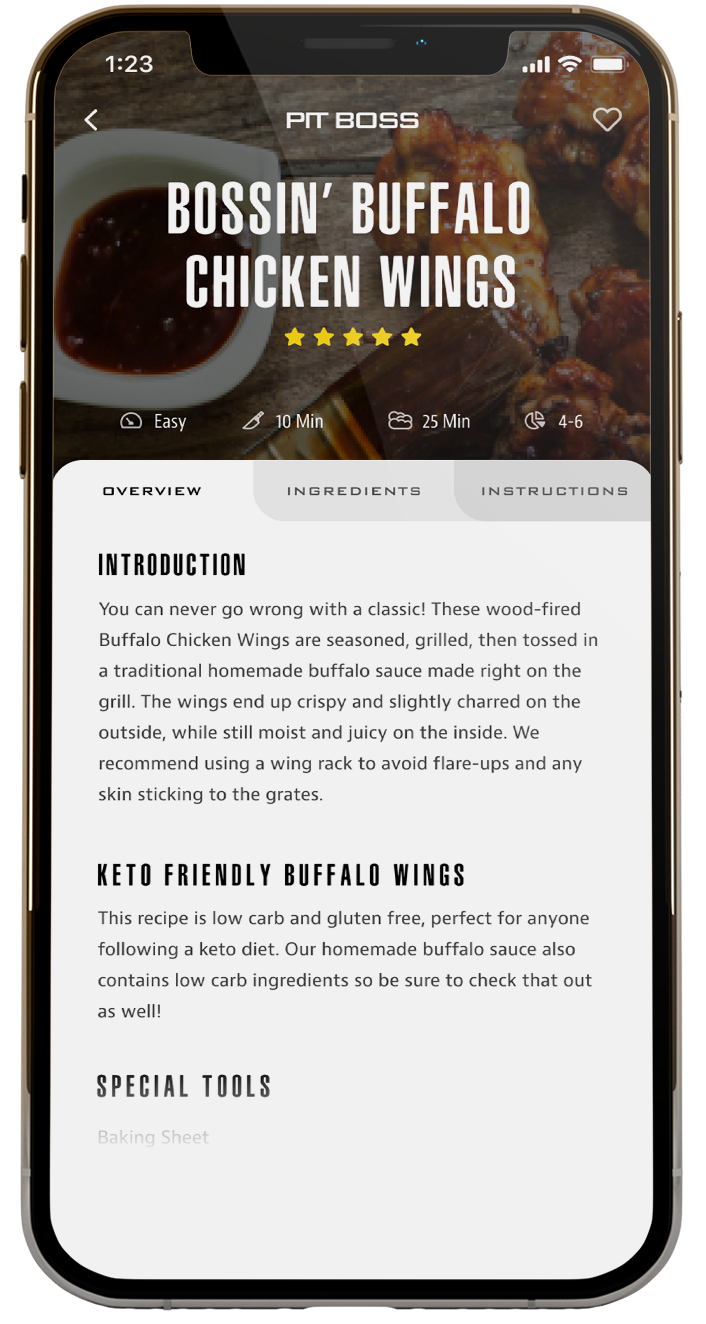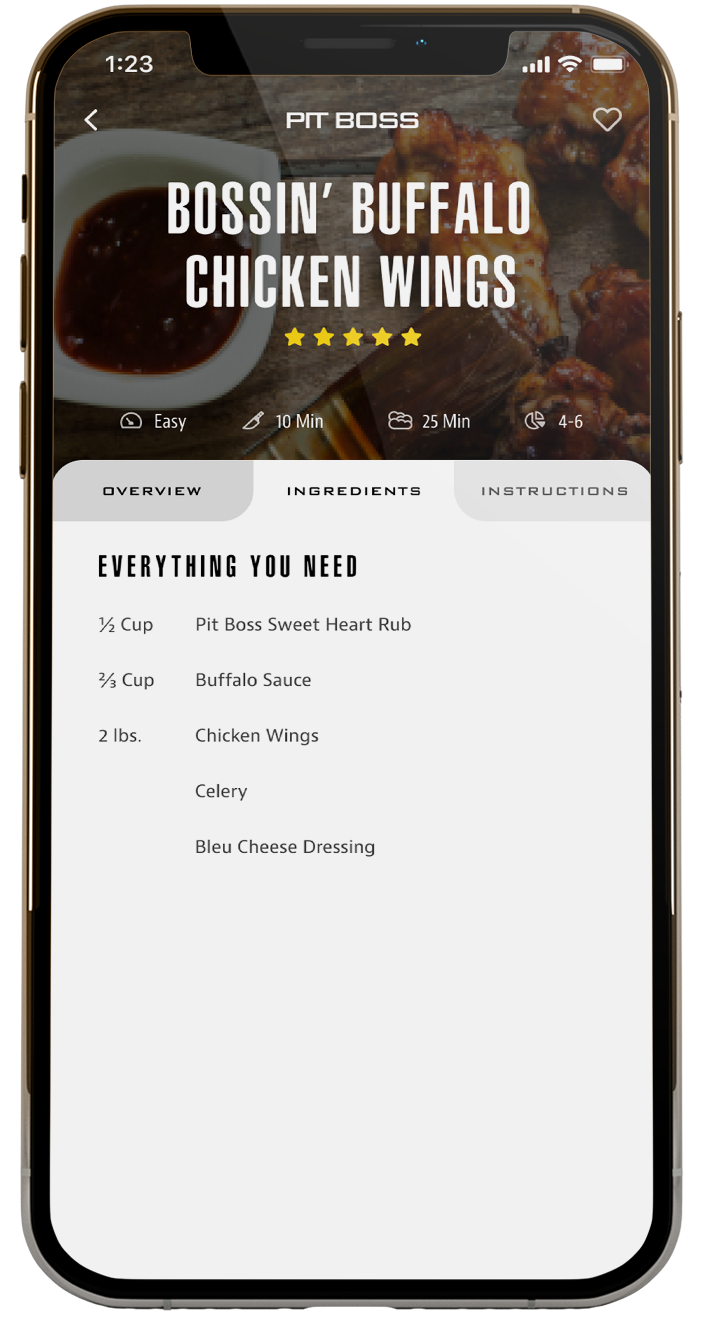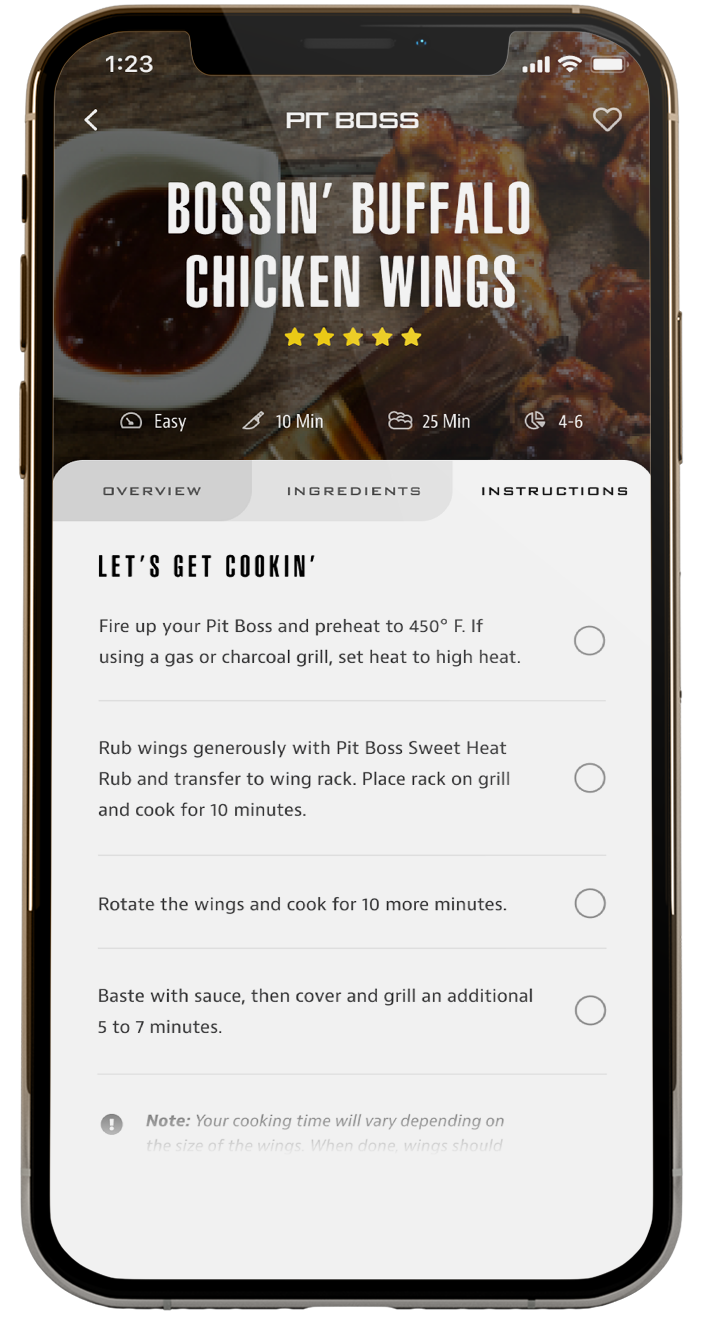 How can we make new users successful faster? That question kicked off our onboarding initiative to make the process as easy as possible and reduce user friction. To get new users set up quickly, correctly, and consistently, Pit Boss needed a new onboarding process that would enable the app's Bluetooth and Wifi connection portion to connect with their grill(s).
To understand the users' problems, I interviewed new and existing owners to observe the current process and dig into analytics.
By breaking down the process into incremental wins and providing well-produced documentation and videos along the way, connecting the app to a grill is no longer an arduous task.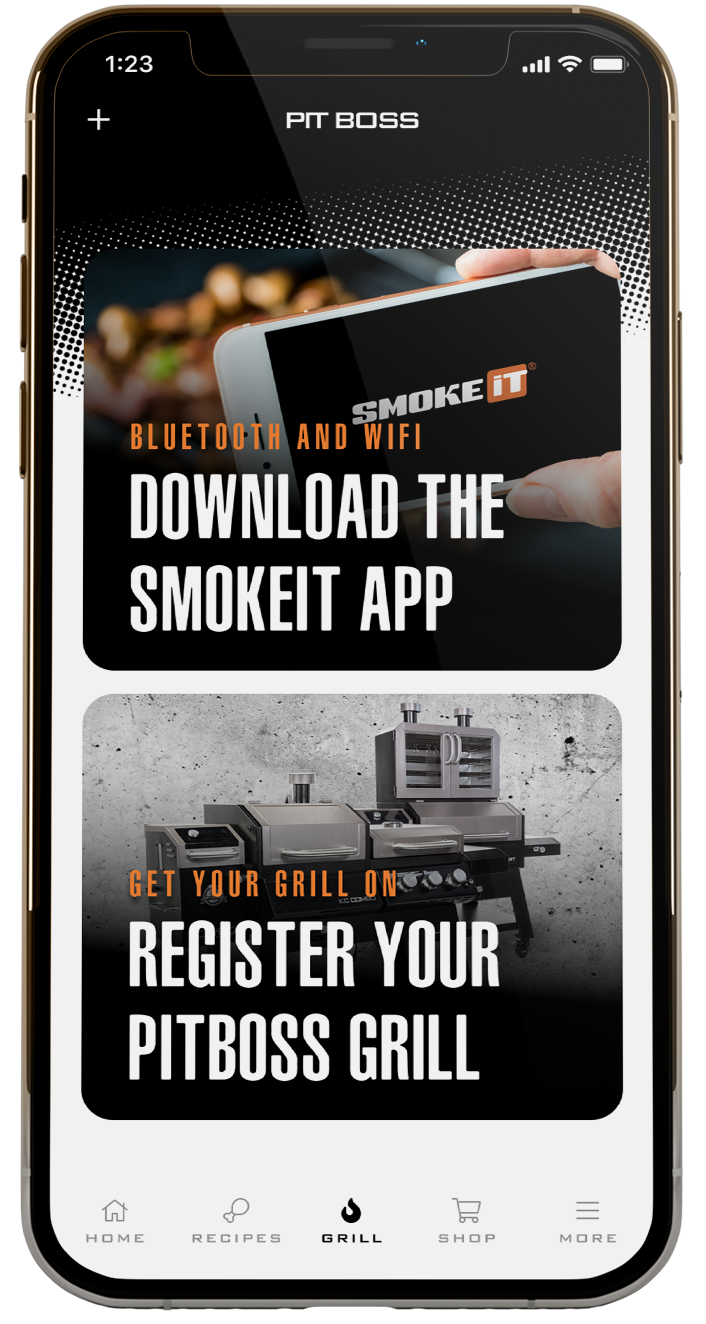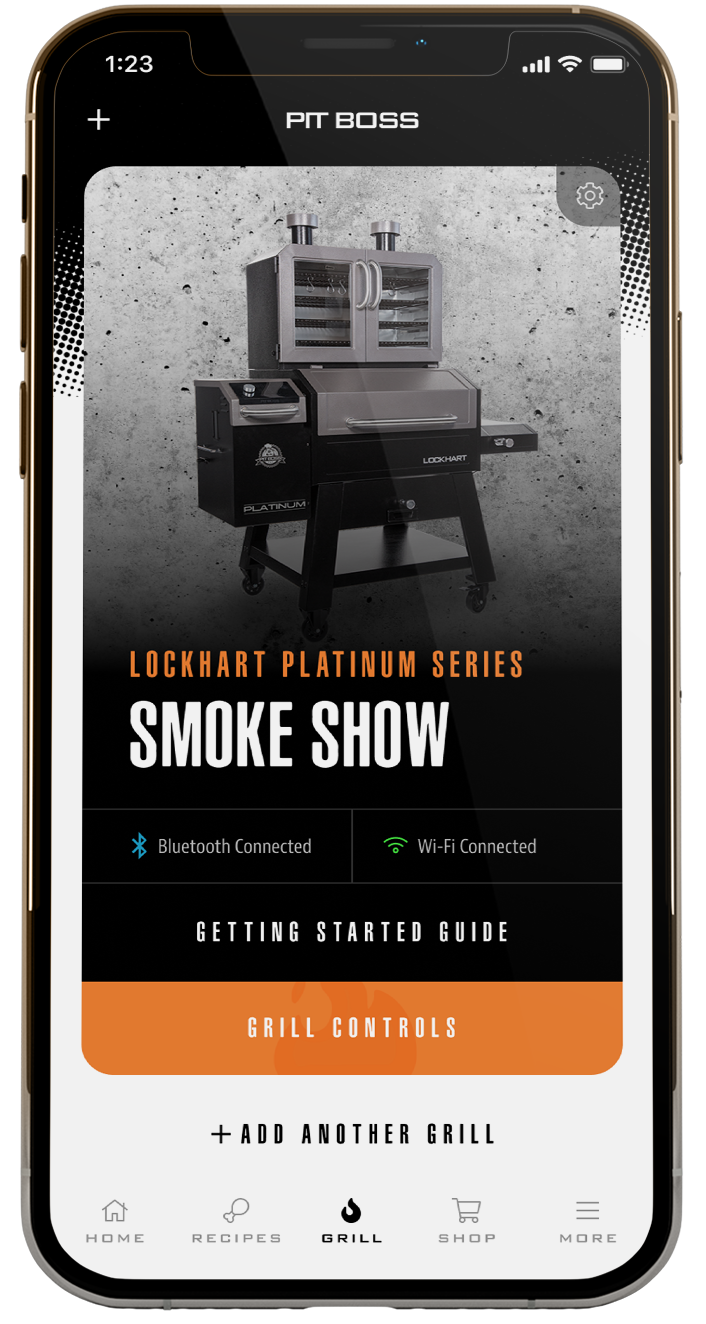 Initial grill screen for both new and existing users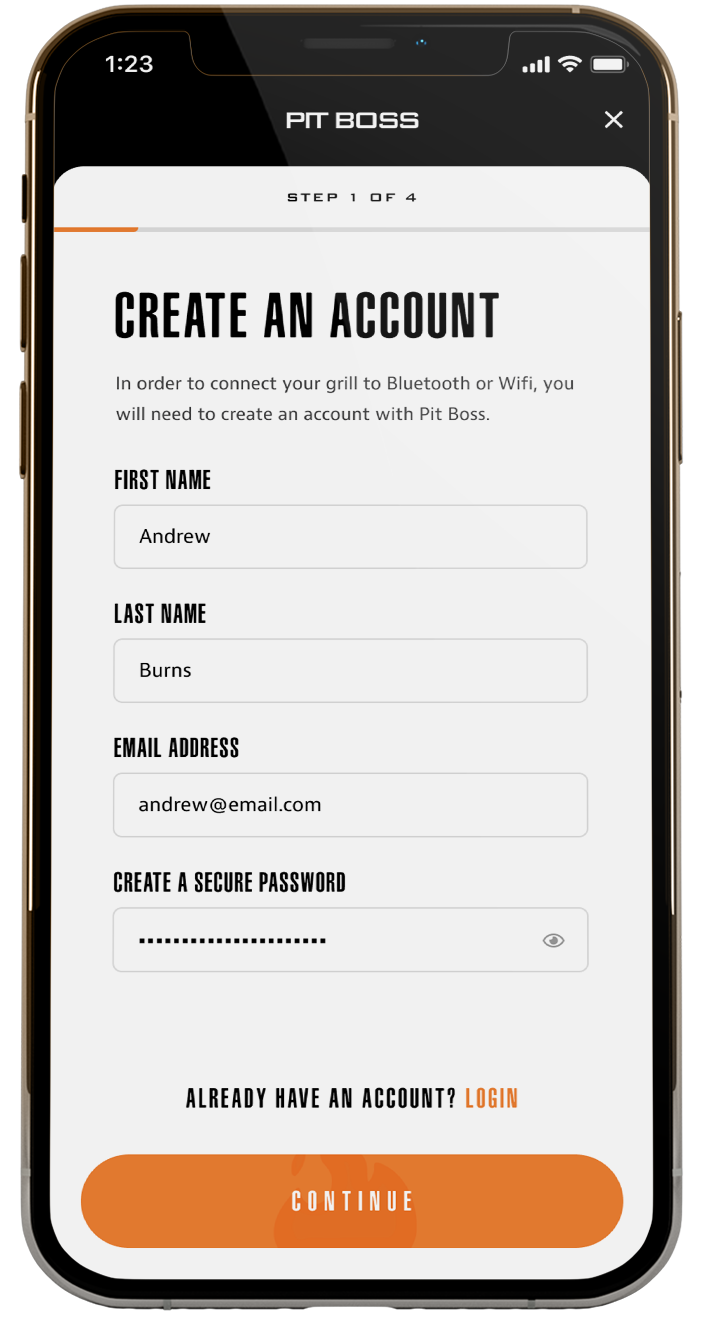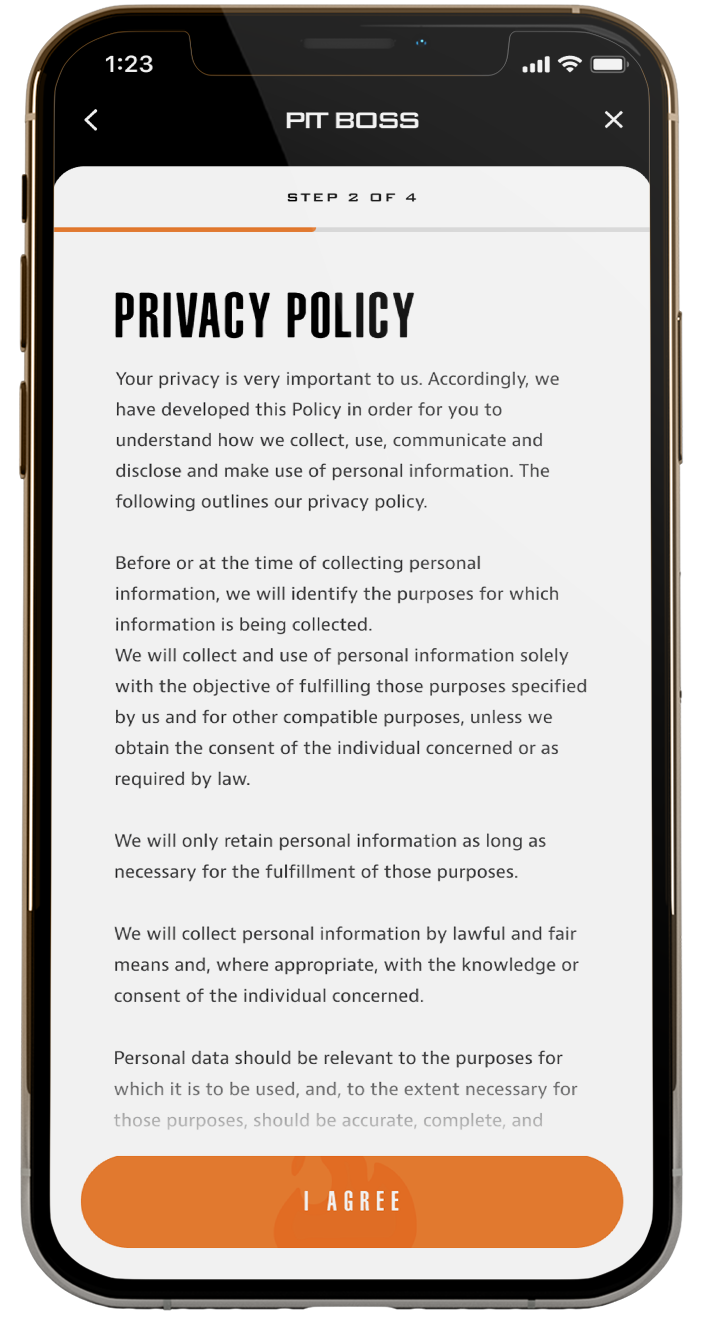 Intuitive onboarding/grill connection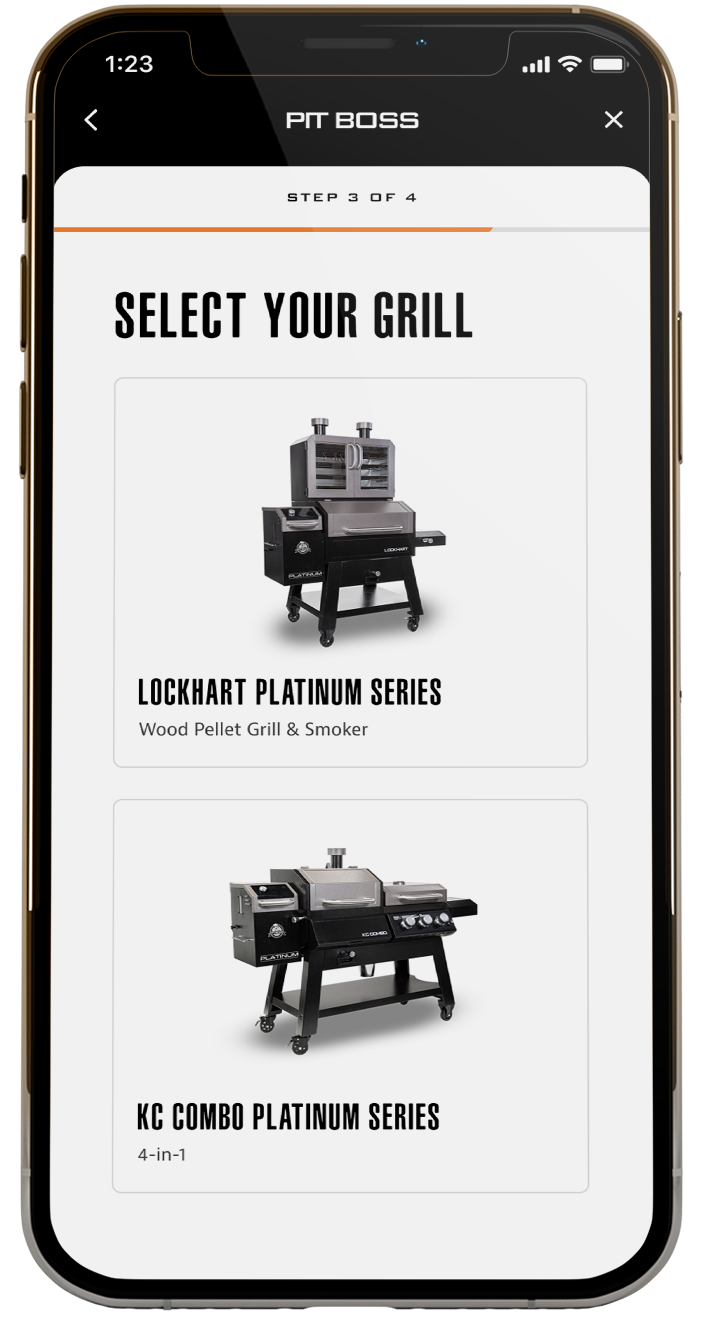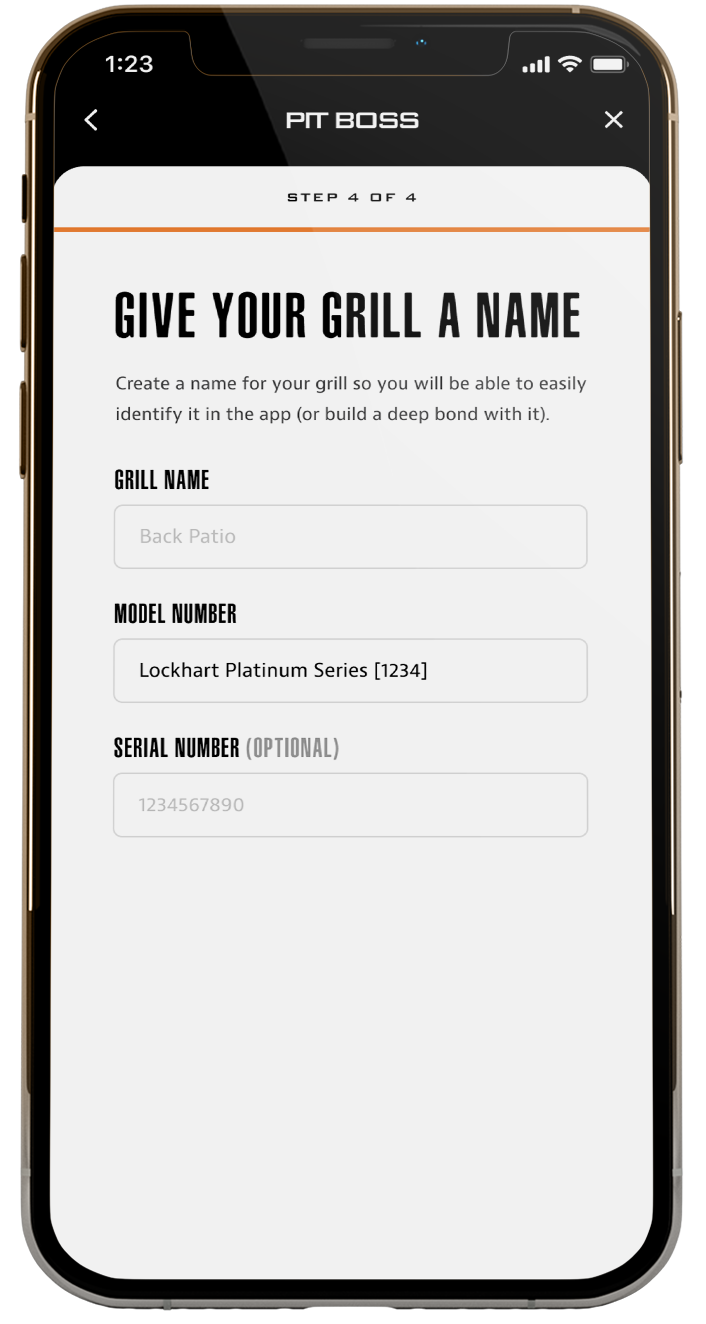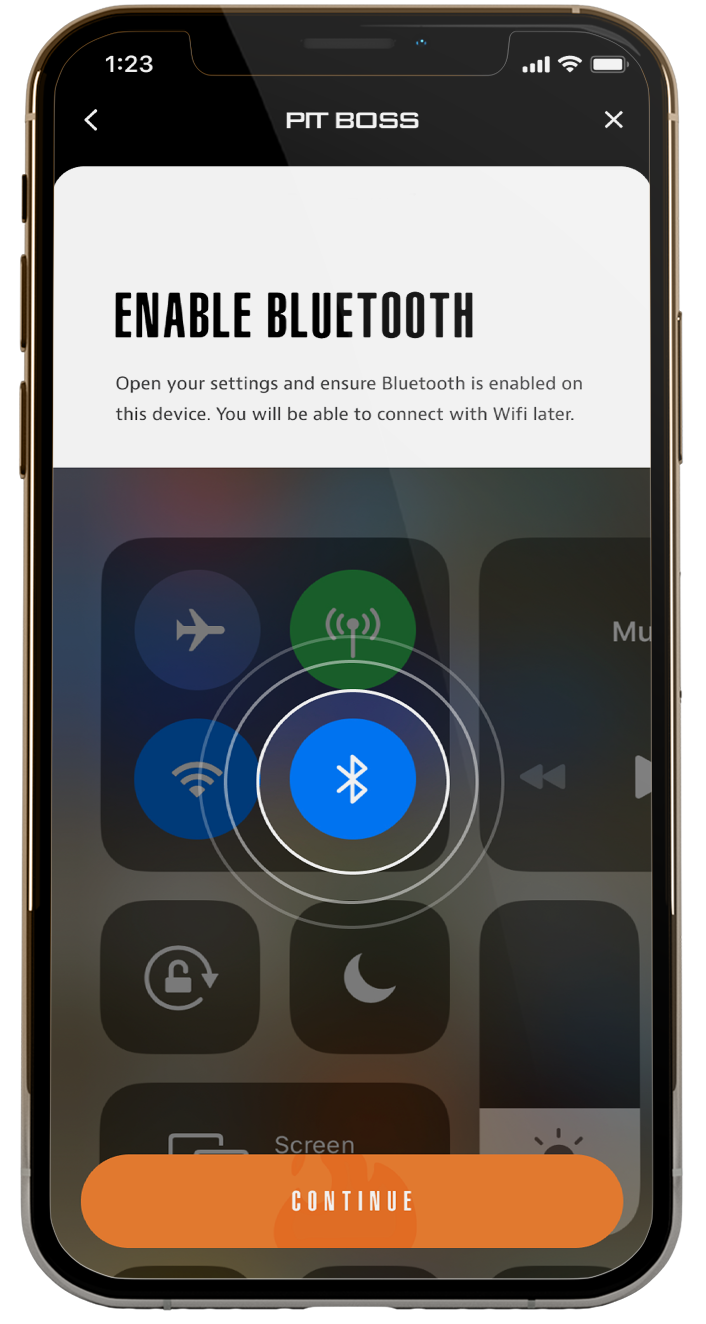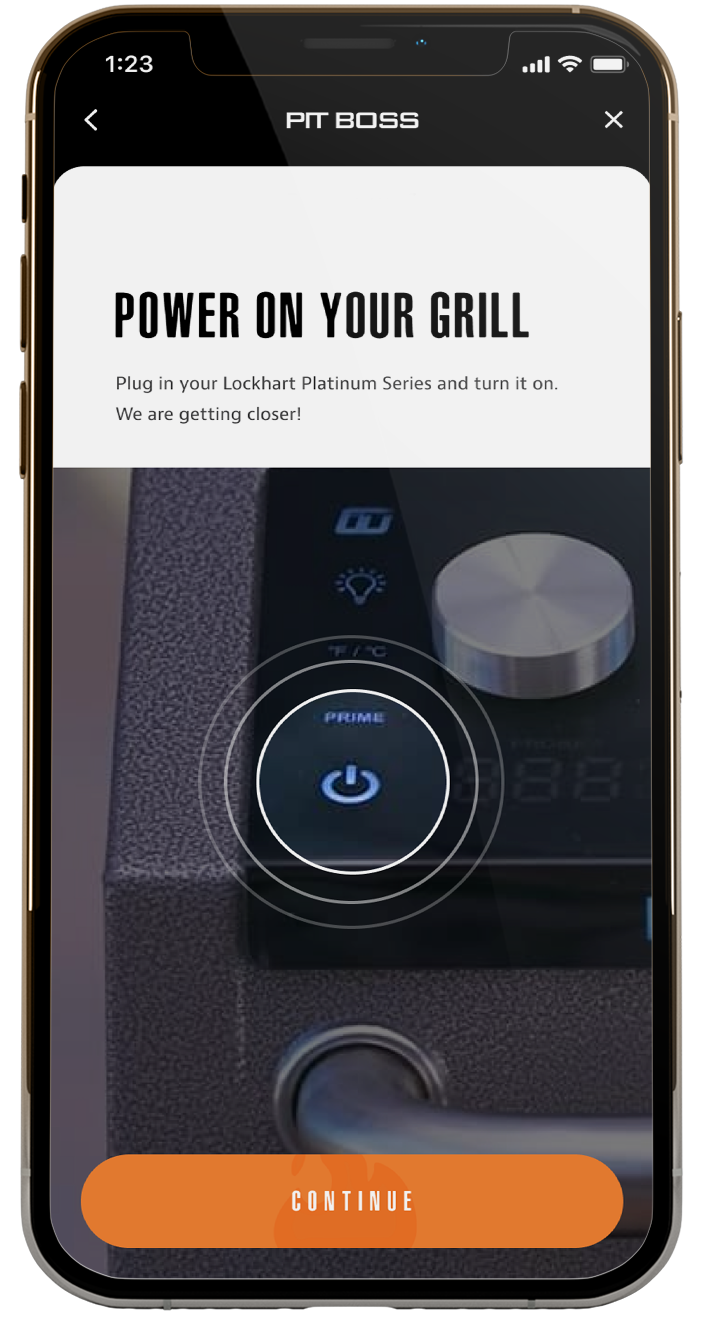 The app redesign was met with rave reviews. Users loved the improved technology, experience, and control they now have with their grills. The new onboarding flow decreased user setup time and support tickets.  Users have also noted how fun and easy it is to search, save, and share recipes with fellow grillers. Pit Boss also saw a 25% increase in sales through the app's shop feature.